Dave's Place for Assorted R/C Things
Welcome!
Want to see some pictures of planes that are built from these plans? Check the new PHOTO PAGE. Send me pictures of your handiwork and I'll post them here. Electric conversions are welcome!

You can contact me at: dfritzke@pclink.com

Care to donate toward the costs of hosting of this site? I would certainly appreciate it! It costs actual $$ to host this site, and many many hours of effort by Gene and myself converting plans to CAD and PDF so you can enjoy them!
---
The "Baby Boomer"
The "Baby Boomer", a little 2 channel powered glider for the Cox TeeDee .010. This was an unpublished plan by Scott Christensen. This plan recreated by Gene Rock then exported to .pdf so you can print it out and build one for yourself. A lovely little plane, Scott did some nice work.
The "Osprey"
by Joe Wagner. This is an enlarged version of the (dare I call it) iconic "Dakota" for R/C. You may want this additional file on Steam Forming sheet balsa wings. Thanks Joe for letting us share this with everyone.
"The AeroCommander Shrike" by Ken Holden
A very nice twin design by Ken, also kitted by Ace R/C. This plane was originally designed for two TeeDee .049's and 2 channels. Engine out flight was reported to be excellent in the original magazine construction article. Good thing too, as both engines ran until the tanks were dry. My plans show a built up wing using a NACA 2415 airfoil. CAD file drawn & output to pdf tiles by Dave Fritzke.
The "Dick's Dream"

A popular early Ace R/C plane designed for a Pee Wee .020 and singe channel Ace Pulse Commander radio system. This plan recreated by Gene Rock in CAD then exported in "tiles" to .pdf so you can print it out and build one for yourself.
The "SKAMPY"

The Skampy was another early .020 single channel plane by Ace. A sporty little number. This plan also recreated by Gene Rock in CAD then exported in "tiles" to .pdf so you can print it out and build one for yourself.
The "Mod Pod"

The Mod Pod, little motor glider that was kitted by Dumas. Another by Gene.
The "Minnie Mambo"

The Minnie Mambo, a very popular 1/2a plane that was kitted by Sterling. This plan recreated by Gene Rock in CAD then exported in "tiles" to .pdf so you can print it out and build one for yourself.
The "Lil Esquire"

The Lil Esquire, Kitted by Midwest, a very popular 1/2a trainer of the day. CAD by Dave Fritzke, final work to PDF by Gene Rock.
The "Lil Tri Squire"

The Lil Tri Squire, based on the Lil Esquire with identical wings and stabilizer, a more appealing 1/2a trainer from Midwest. CAD by Dave Fritzke, final work to PDF by Gene Rock.
The AllStar"

The All Star, published and then kitted by Ace R/C. Designed by Romey Buckolt. Great flying plane for .10-.15 motors. AND it flies just fine without ailerons.
The "QUADRATwirl"

From Al Foot, via Gene Rock, is the QuadraTwirl, an electric autogyro with TWIN twin rotors. Full article, pictures and construction plans.
The "Twirl"

Also from Al Foot, is the Twirl, an electric autogyro with twin rotors. Looks like a ton of fun!
"The Papillon"

Long ago Hobby Lobby imported this kit from Japan made by Kyosho. It was a "point of entry" plane for lots of us in our 40's. Would be great with a cheap Speed 400 setup.
"The Pizazz"

This is an ARF that was sold by Hangar 9. It was a much loved plane at our flying field, so I decided to "archive" it by making some CAD plans of it. I did move the rudder and elevator servos to the tail and counterbalanced the rudder, much like the Pizazz replacement called the Twist. This one prints out in lots of tiles, so be prepared to do some taping to get a working plan.
"The Jr. Skylark"

Classic design by Carl Goldberg, plans converted to CAD by Gene Rock and presented here as a tiled pdf file. Would make a great electric twin.
"The GLH (Goes Like He**!)"

The George Kurreck "GLH". 2-4 channel micro radio.
"The Pacer"

The Owen Kampen "Pacer". 2-4 channel micro radio. The Pacer showed what was possible if a sleek and light enough plane had a hot TeeDee on it.
"The Mach None"

And later, Ace came out with the Mach None, designed by Ken Holden. 2-4 channel micro radio.
The "Guppy"
The Guppy is a simple R/O powered glider that was kitted by Tom Runge of Ace R/C, one of the patron saints of small R/C plane lovers. This plan was just done up by Gene Rock. Gene shows a built-up wing, or you can use a set of Ace tapered foam wings if you can score a pair. The Guppy is about as fool-proof as a rudder-only plane can be. Thanks Gene!
"The Jr. Falcon"
An all time classic design by Carl Goldberg. Reed valve COX and an escapement if you are a purist, or a 3-4 channel setup. If you add ailerons, reduce the dihedral by half.
"The Super Pacer"
A very nice design by Owen Kampen. .15 to a .28 appropriate for this great flyer. Never published, kitted by Ace. This plan is another fine CAD to multipage pdf effort by Gene Rock.
Some new old stuff, all from the late 1950's:
"Stunt Runt" Here is a little high wing 1/2a radio model from the late 50's.
"Stitts Ultralight" Model of Ray Stitts "giant model airplane" ultralight. Good Texaco candidate.
"Spook" 1/2a controliner, 1959
Hopper". Another little CL plane, Ray Booth.
"Asteroid 320"Smaller classic FAI style FF, Bob Hunter.
"Curvette" Small glow FF design by Keith Laumer
"V Girl"Another by Keith, the V Girl.
OK, we have 7 HLG designs, all full size:
"J3 Cub"Classic rubber free flight by Neil Charlebois.
Howard "Ike"" Another rubber scale by Charlebios.
"Dart" P-30 Rubber
"Gulfhawk"Scale UC biplane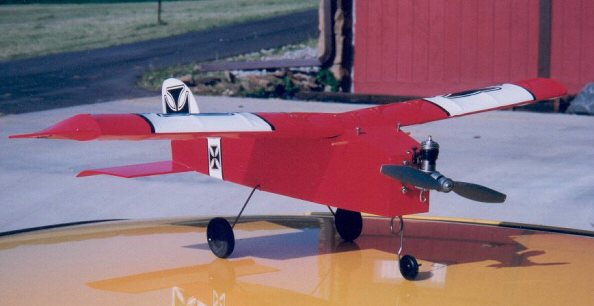 New and improved, a tiled Acrobat file of the favorite old Fred Reese Littlest Stick. Updated by yours truly and by Gene Rock. Gene has modified the tail, the airfoil, the fuselage, shown a modern micro proportional radio, etc etc. Get it right here! This is the plane kitted by Ace R/C as a rudder only, and published by RCM back in the late 70's. I had previously added a bit to the wingspan, removed the right thrust, reduced the wing incidence, & added an elevator. Photo of model built by Steve Polles, IIRC!
TilePrint by Black Flight Models
This little program (Under $20!) is a winner. You can scan any plan, 3 view, insignia, whatever, and print it out on your lettersize printer in "tiles" and tape them together for a full size plan. Yes, scan that plan from an old magazine and scale it to any size and print it out. You have a computer, and probably a printer and a scanner too, so why not?
Link to Black Flight Models Website
Link to thread at RC Universe about TilePrint
Hints:
Scan between 400 and 600 dpi.
Scan in black and white (bitonal/binary) not greyscale, and definitely not in color.
Look for a "line art" setting, or "black and white drawing". Avoid photo, halftone, or any "color" settings.
Tiff ( .tif) is a good format for this kind of stuff. Avoid JPG.
Experiment! Play with the brightness, contrast & "threshold" settings especially.
---
Any and all of Ted Straders great designs (the Nomad, Miss L, Whirlwind and countless others) can be obtained from Ted Strader himself. His address is:
Ted Strader
One Orchard Dr.
Schenectady NY, 12302


Plans for Airtroncs models are available from Aerosphere Inc.

*Some of the material on this page, and many the .pdf format plans and articles are the result of work by Gene Rock. Thank You Gene for sharing your efforts and talent with the world!
& Thanks to all who visit this page!
www.my.pclink.com/%7Edfritzke/