Keith Laumer's Designs

Keith Laumer, besides being a talented Science Fiction author, was a model airplane hobbyist. Over the years he published well over 2 dozen designs in major model airplane monthlies. His designs, and his construction articles showcased his writing talent and his imagination. Here is a sample, the intro to the "Twin Lizzie" consruction article:

"It's a perfect day for flying; the runway is smooth and The air is calm. Engine humming, Twin Lizzie starts her take-off run; the tail skid clears the ground, and with a tentative bounce, she's airborne, climbing steadily in a wide turn that brings her back directly overhead with 50 feet of altitude. The sun glints off her side as she swings past to make another circle, climbing 100 feet before the engine cuts.
In the glide, the ship drifts back toward the runway rocking slightly in an occasional gust, to float in to a perfect landing, ready to go again.
That's the way Twin Lizzie flies, and construction is easy, with a simple box fuselage, sheet balsa tail surfaces and constant chord wing. If you're a beginner or an old timer you'll find Twin Lizzie fun to build and fly."
(Keith Laumer, Model Airplane News, April, 1959, page 9)

Now, don't you want to build one for yourself?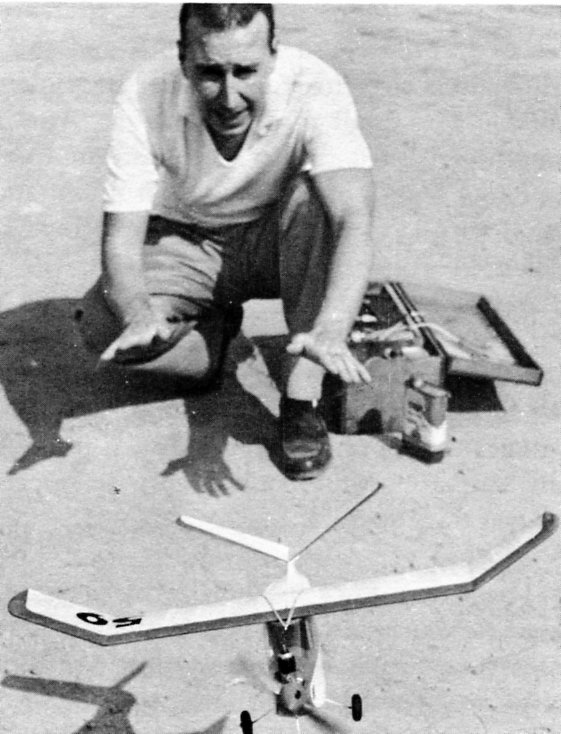 Here are some of his creations:
"The Twin Lizzie" Probably his best known design, the original plans were converted to CAD by Gene Rock and presented here as a pdf file. Would make a great electric, as would all of Keith's old designs.

Flying Models Magazine offers a plan for an enlarged twin engine Twin Lizzie, designed by Miltion Dickey. Plan #CD276, $12.00 (as of August, 2007). Also, Model Airplane News published an enlarged R/C version of the Twin Lizzie, in the April 1978 issue by Paul Denson.Here is a picture of it. If you build model airplanes, you should subscribe to Flying Models!
"The Dub-L Dek-R" Simple little all sheet balsa biplane.
"The Dan 'L Boom"
"The Lil' Red Twin"
(BMJR Models currently offers a kit for the Little Red Twin, and used to sell one for the Twin Lizzie.)
"Buttons" Nice little high-wing with a twin fin. Thanks Bruce for sending this one!
"Zoomerang"
"V-Girl"Another CAD to Multipage Acrobat file by Gene Rock. Prints on 9 sheets of 8 1/2 x 11 paper, tape 'em together and get building! (BE SURE to print it with NO SCALING from Acrobat Reader!)
"Pendulum Pete" With Floats!
"Tiger Moth biplane, (scale)"
Here are links if you want to know more about Keith: <---Back to Main Page